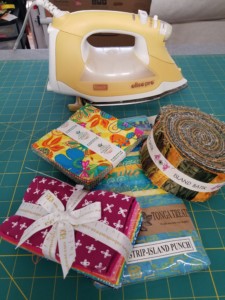 This is fun and mysterious!  It will keep you guessing all year "Who is my SECRET Sister?"
How does it work?
We draw information sheets at the August meeting and will have a reveal in July.  There will be a space where items may be dropped off and picked up at each meeting. Don't forget to label your item(s) with your secret sister's name.  Dates you may want to remember: Birthdays, Anniversaries and, of course, Christmas.
What do I give?
You can give anytime you want (i.e. meetings, mail to their home, etc.) and as often as you like.  It can be something as simple as a card or a nice gift.  The whole object is to surprise them, keep them guessing, and create a sense of fun and excitement.  The items do not have to be quilt related, but may pertain to other interests your Secret Sister may have, and listed on their information sheet. A few suggestions: fabric, thread, patterns, books, sewing gadgets, gift cards, tea towels, flowers, wine, baskets, jewelry, or quilted items. The list is only limited to your imagination!  You may spend as little as $10 or as much as you want; it's up to you.
What happens at the end?
We will have a reveal luncheon or dinner.  At this event, you will bring a final gift for your Secret Sister and a gift for the Sister who has been giving to you.   Remember, be the Secret Sister you would want to have.
Why should I do this?
It's a wonderful way to get to know one another better. What better way to treat the child inside each of us, but to receive a little gift now and then just for no reason.
For more information, contact Tammy Arnold at (813) 716-0522 or tammykins@verizon.net