A Farewell Block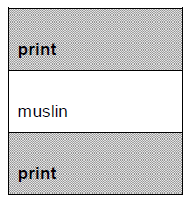 A wonderful way to say "Remember Me" to a departing guild member.
Cut 2 strips 6 1/2 x 2 1/2 piece of solid or print fabric
1 strip 6 1/2 x 2 1/2 piece of unbleached muslin
Place all three together with the muslin in the middle.
Finish: You can make several blocks at one time using "the strip piecing" method. Cut 2 lengths of solid or print fabric 2 1/2 wide, sewing them together with the muslin strip in the middle and then cutting them into 6 1/2 lengths.
Sign your name on the muslin strip using a fine point Pigma pen. (Tip: if you iron a piece of freezer paper to the muslin strip it makes it easier to write on.) If you know you are moving away please contact the Sunshine Block Chairperson as soon as possible. We would hate to miss giving you a set of Farewell Blocks.
Make a bunch of these in advance to keep on-hand.